Meadowlark Memory Program: Art Exhibition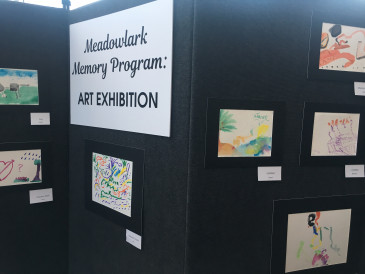 by Michele Riter, Community Relations Assistant
   Friday, February 28, Meadowlark Memory Program artists, their families, Meadowlark staff and community members enjoyed the unveiling of the art pieces at an opening reception for Meadowlark Memory Program: Art Exhibition. This free exhibition is located in the atrium of The Flint Hills Discovery Center (315 S. Third St.). Featured art includes pieces created by residents and community members through Memories in the Making and ARTFul Making programs made possible by collaborations between Meadowlark Memory Program, the Marianna Kistler Beach Museum of Art and the Alzheimer's Association.
   Michelle Haub, Special Programs Leader commented on the event saying, "it was exciting to see the artists viewing their work and sharing their creativity and ideas with others. The support from the community was especially appreciated." One of Michelle's favorite part of the evening was engaging with program members about the art pieces. When she had asked a program participant about a painting. "I covered the label that showed the title of the work, 'Where's Barbie?' and asked him what he would title it. I was just curious of his perspective on the piece. His response was spot on! He answered with 'Who's Wearing the Dress?"
   Creative thinking can enhance memories, emotional expression and cognitive processing. Through art, imagery can reflect memories or emotions that a person may not be able to verbalize. This form of expression can reduce anxiety and depression of those with dementia and Alzheimer's. Meadowlark Memory Program is encouraged by the support of this exhibition and future projects.
   Visit The Flint Hills Discovery Center to view bright watercolors, mixed media prints and memorable moments depicted by program participants. The exhibition will be open through Monday, March 18. 
---