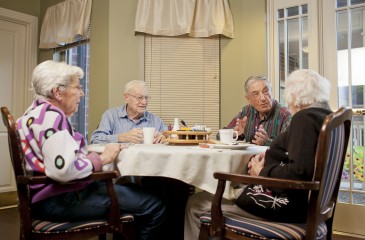 The heart of a home is the kitchen. At Meadowlark Hills, food choices are resident-directed —  residents decide when, where, and what they want to eat. Each house has its own kitchen and dining room, along with a dedicated and skilled foodservice team that is permanently assigned to the house. Meals are provided for residents continuously throughout the day. Some meals are prepared according to the daily specials, while others are cooked to order.
The aroma of freshly prepared eggs and bacon can be smelled throughout the house as breakfast is made for the residents. Because we understand that people wake up at different times and have varied schedules, each resident determines when and where he or she would like to have breakfast. Some like to be served in their room, while others walk down to the kitchen.
Residents can choose from several menu items for both lunch and dinner, and the kitchens are full of things that the residents enjoy eating. They can walk into the kitchen and grab something out of the refrigerators at any time. Later in the day, baking smells fill the house as cookies and other desserts are made from scratch in the kitchens. In the evening, some residents like to settle in with a warm cup of coffee and a snack. Others may wake up in the middle of the night and want a snack before falling back to sleep. Residents are welcome to make their own snack in the kitchen, or a staff member will gladly make one for them.
Visitors are welcome at any time in the households, and it is not uncommon to find family gathering around the table in the dining room, enjoying a cup of coffee with a loved one or friend throughout the day. During the holidays, the houses are filled with laughter and joy as favorite recipes are prepared. Friends and family bring in their own food to share in the holiday festivities. Food leftover from family gatherings is placed in the refrigerator for the resident to enjoy later.
No matter what the occasion or need, kitchen staff at Meadowlark Hills work to ensure that each resident feels the warmth and comfort that comes from sharing food and friendship.
---