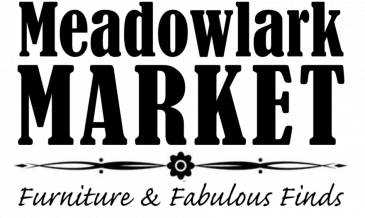 Furniture and Fabulous Finds
Need a desk? A floor lamp? How about a recliner or a silver bracelet? Offering collectibles, jewelry, appliances, furniture — antiques, vintage and gently used — as well as seasonal and year-round home décor items, Meadowlark Market is open to the public at 120 N. Scenic Drive the final Friday and Saturday of the month, unless advertised otherwise. The Market opened in this location in April 2022.
Market items currently are displayed on the main floor of a large five-bedroom/two-bath house, similar to how they'd be arranged in a home. For example, cookware, dinnerware, drinking glasses, and flatware sets are in the kitchen or dining room, while sofas, chairs, end tables, and storage pieces are usually in the living area. Dressers, chests of drawers, beds, and nightstands are often in four bedrooms; a fifth bedroom is usually stocked with office furniture. The home's large screened-in porch also holds items with price tags.
Pay for your treasures with cash or credit card. Checks with a Meadowlark address also will be accepted. Kansas sales tax is included in the listed prices. 
Proceeds benefit the Good Samaritan Fund and potentially other projects. The Fund benefits residents living in a Meadowlark healthcare household who have outlived their financial resources. Donations to the Fund help bridge the gap between state of Kansas assistance and the cost of quality care and life enhancement opportunities.
Volunteers operate the shop with Meadowlark staff oversight. If you'd like to serve, please call Jana Armfield, volunteer coordinator, at 785-323-3890. If you are in need of a particular item, or if you have furniture or other items you'd like to donate, please contact Becky Fitzgerald, Development Director, at (785) 323-3843.
2022 Market dates for 120 Scenic Drive:
September 23 & 24, 10 a.m. to 3 p.m.
October 21 & 22, 10 a.m. to 3 p.m.
Follow Meadowlark on Facebook to see the latest news about Meadowlark Market.
---