Bramlage House is our transitional care facility located at the Meadowlark Hills campus. Transitional care provides recovery support and rehabilitation for people as they transition from a stay in the hospital to the time they can safely return home. It's open to all eligible seniors needing recovery assistance, not just residents of the retirement community.
Thanks to its modern design, open living areas, therapy center, and private rooms, Bramlage House creates the warmth of home while providing guided recovery and nursing care.
Short-Term Nursing Care
Your rehabilitation will be led by a team of talented professionals, including an on-site physician, therapists, nurses, dietitians, fitness specialists, and social workers. Our goal is to help you return safely and quickly to the life and home you love.
About Bramlage House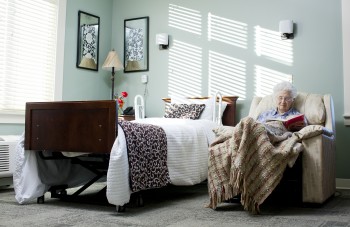 All guest rooms at Bramlage House are private and fully furnished, including a flat-screen television and bathroom. Throughout the house, there are spaces tailored for relaxation. Bramlage House guests have access to Flair Hair & Body Care (located on the lower level of Bramlage House), Prairie Star Restaurant, Verna Belle's Café, Grosh Cinema and the Kansas Room Pub, located in the main building on the Meadowlark Hills campus.
Food and beverage services are available in-room and in the dining room. The full-service kitchen features breakfast made to order, and guests in Bramlage House are encouraged to dine at the times they choose. A registered dietician is on staff and available to answer questions.
While staying in Bramlage House, guests are invited to venture out of their rooms, explore the house, and participate in some house and campus activities as they are able.
Medical Information
The first step to moving into Bramlage House is to check Medicare and insurance coverage.
Guests who recover in Bramlage House at Meadowlark Hills have the option to keep their own doctor.
A responder button is available in each room. Skilled nursing care is available 24 hours. Service can be received at any time with the push of a button.
Contact
Kristen Martin, Care Transitions Leader
(785) 410-1212
kristen.martin@meadowlark.org
Abby Cavender, Community Sales Leader
(785) 320-7199
Jayme Minton, Support Services Director
(785) 313-0454
jayme.minton@meadowlark.org
---