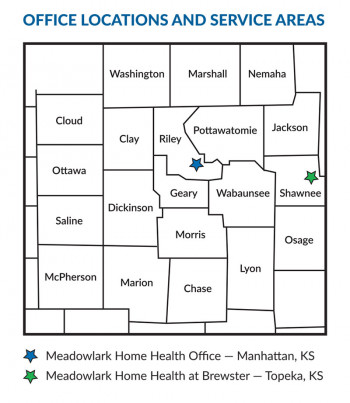 As part of our commitment to enhancing senior lifestyles, Meadowlark offers Home Health Services to the elderly living throughout the Manhattan area, including Topeka. You don't have to live at Meadowlark Hills to use them!
Maintain the greatest level of independent living possible in the home you love by taking advantage of our in-home health care and household support services.
In-Home Health Care
Our nurses, aides, and therapists can address your health or personal needs in the comfort of your own home, including services such as:
Health assessments
Diabetes management
Intravenous therapy
Lab work

Injections/vaccinations
Wound care
Hygienic care
Pain management
Medication assistance
Assistance with activities of daily living (ADL's)
Assistance with independent activities of daily living (IADL's)
Physical therapy
Occupational therapy
Speech therapy
Many Home Health services may be eligible for Medicare reimbursement.
Meadowlark caregivers are all screened and bonded, so you can feel completely safe and secure when they enter your home.
Our services are available on a daily, weekly, or monthly basis.
We also offer home health services for people in the surrounding areas, including Topeka and Shawnee County.
Companion Services & Household Support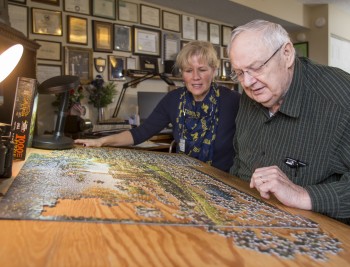 Helpful Living is a collection of basic household services offered to residents of Meadowlark Hills or individuals living in the Manhattan community. These services provide support so that you can thrive in your home longer. Meadowlark Home Health caregivers manage the Helpful Living package, which may include one or a combination of the following services:
Laundry assistance
Light housekeeping
Grocery shopping
Meal preparation
Escorting to errands
Assistance with pets and plants
Minimal assistance with activities of daily living (ADLs)
Caregiver Portal: https://my.adlware.com/cp  
Contact
Home Health Services
(785) 537-9497
info@meadowlark.org
Learn More About Meadowlark services 
---