Speedy Pd celebrates 10 years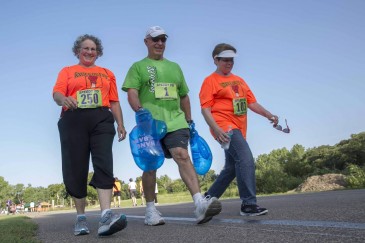 Don Rasmussen, Meadowlark Parkinson's Program participant and resident at Meadowlark Hills, is feeling good these days. It's August and for the tenth year in row it means the season for the Speedy Pd Race for Parkinson's disease is in full swing. The event is the main fundraiser for Meadowlark Parkinson's Program, which provides services for the Flint Hills region to improve the quality of life for all those affected by Parkinson's disease (PD).
   Don was diagnosed with PD fourteen years ago while living in Houston, Texas. The doctor didn't offer Don much hope. "He said, do you have a bucket list?" Don recalled.
   At the time he and his wife Bea had been considering retirement. They had spent years traveling to the K-State football games and knew from their collegiate days that they liked Manhattan. When Don and Bea visited Meadowlark, they were delighted to learn about the Parkinson's Program. "I credit the program with extending my quality of live and teaching me to live well with Parkinson's," Don said.
   Since the program is free to all participants, it was clear early on that to continue growing its reach there would have to be a focus on fundraising. The Speedy Pd Race for Parkinson's disease began in 2009 with 124 participants on the Meadowlark Hills campus. That first year, Don ran the 10k fueled by his extensive running background, including marathons in Houston. To him, Speedy Pd is not only a time to raise funds and awareness, but also a time to celebrate successes experienced in his battle with PD and in gratitude for the support he receives from his family.
   This year, the annual fundraiser will celebrate its tenth year with a goal of reaching 1,000 participants. On race day those living with PD are referred to as VIPd-ers, Very Important People with Parkinson's disease. Every step is taken to facilitate their participation, including singing the national anthem just before the race begins. "I attribute much of the success in growing of the race to the focus on those who have PD and in the opportunities for sponsors and runners to interact with one another. Personalization brings appreciation," Don said.
   The race takes place in beautiful scenic Tuttle Creek State Park and has for the past several years. The course is pretty, fast and flat with a unique and fun race headquarters at the finish line complete with beer and BBQ provided by Cox. Bros. BBQ. To register for the10k, 5k or Half-Mile Family Fun Run/Walk, visit www.runsignup.com or complete a paper registration at one of the following locations: Meadowlark, UMB or Body First Wellness Center.
   Don appreciates all the support from businesses, race participants and his family for the Speedy Pd and Meadowlark Parkinson's Program. "I hope to see everyone at this year's Speedy Pd event," Don said. "This is truly an event that rejuvenates my soul."
---