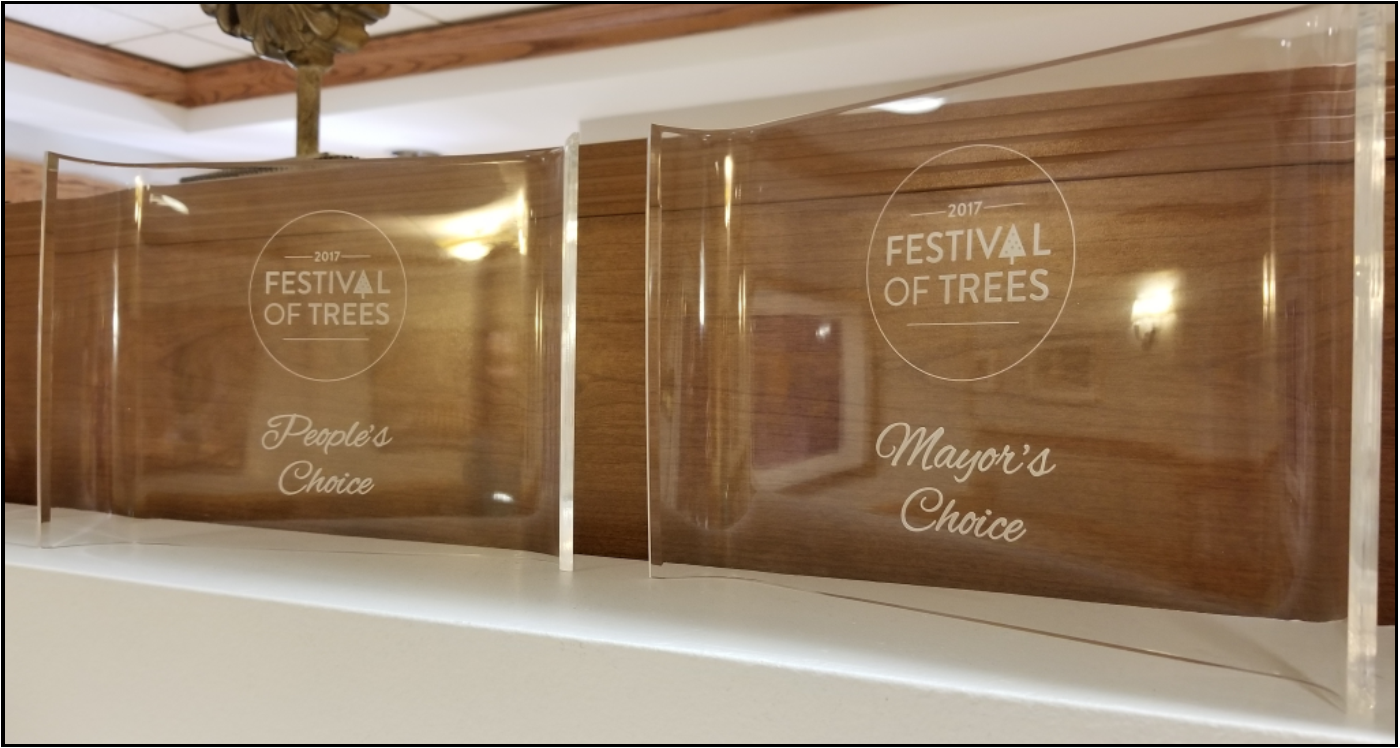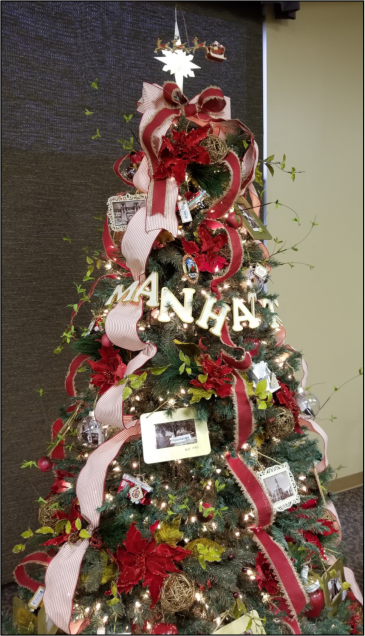 Festival of Trees entry wins two awards...again!
For the sixth straight year, a decorated tree donated by a Meadowlark team to the annual Festival of Trees Gala scored favorably with judges and event-goers. "Santa Claus is Coming to Town," decked with hand-made and store-bought ornaments representing places and businesses in Manhattan, received the Mayor's Choice and People's Choice awards.
The announcement of the prizes came on Friday, Nov. 17, at the 13th annual event, which benefits the Flint Hills Volunteer Center. Meadowlark's entry, designed by Abby Cavender, Becky Fitzgerald, Bridget Larkin and Hope Laubhan, featured hand-painted letters spelling our city's name, a custom tree skirt stamped with the year Manhattan was founded, and a sleigh-riding Santa tree topper.
Photographs of familiar and/or iconic buildings and locations complemented glass ornaments that would easily correspond to a local business or agency. K-State's Anderson Hall, Meadowlark's six founding churches and the Johnny Kaw statue were all depicted as well as our police and fire departments, the Riley County Courthouse and Aggieville. A glass donut represented Varsity Donuts and a tag with the USD 383 logo was added to a shiny gold school bus.
An ornament created with a Christmas-time photo of Blue Earth Plaza was a no-brainer for the tree. Other organizations or businesses were chosen to be represented because of established relationships. For example, an ornament was made with a photo of Hy-Vee's store front because Meadowlark purchases restaurant and café items from Hy-Vee, and the store sponsored Meadowlark's auction café this fall.
In addition to the ornaments, faux apples were placed among the tree's branches as a nod to Manhattan being known as "The Little Apple".
Meadowlark's entry was one of eight decorated artificial trees donated by local businesses/organizations. Also on the sale bill at Houston Street Center were wreaths, mantle pieces, entryway designs and six live juniper bushes for a total of 33 live auction items.
Our tree was purchased for $475 by Danielle and Jamie Musa of Midland Exteriors, who spoke to the committee at the end of the evening.
"I love all the photos of everything," Danielle said. "There's so much history represented. It's so unique, and you can't buy another (tree) like it. You all did a great job."
She also purchased some wreaths and a tree with a K-State theme, which she said the company may give away as a prize to a lucky customer. She bought Meadowlark's tree, though, without a plan.
"I'm not sure where I'm going to put it," Musa said, "but I like it too much to give it away."
In keeping with a years-long tradition of adding an interactive aspect to Meadowlark's entry, a game was incorporated into the design of "Santa Claus is Coming to Town." Tiny Santa photos were added to 12 ornaments. Festival-goers were asked to find those 12 ornaments and write Santa's location on a game card. A card was drawn from the correct entries, and Angie Sullivan of Manhattan is the lucky winner of a $25 gift Hy-Vee gift card, donated by the store. She played the game on Wednesday, Nov. 15 at the Ladies Night Out event, also at Houston Street Center's ballroom.
The 2017 trophies have been added to the collection of Festival trophies on display in the Community Center outside of Abby's office. 
---