The 11th Hour, of the 11th Day, of the 11th Month - Veterans Day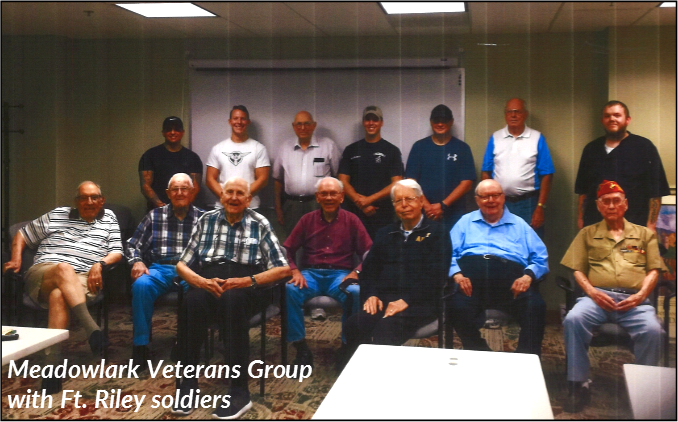 by Michele Riter, Community Relations Assistant
This year's Veterans Day Parade will begin at 9:30 a.m. Monday, Nov. 11, in Manhattan's downtown district. It will head west along Poyntz Ave. and finish at the City Hall Building on 14th Street. A ceremony will take place at 11 a.m. at the Peace Memorial Auditorium in City Hall. Sponsored by the Flint Hills Veterans Coalition, this special event is offering the public an opportunity to show their support for those who serve our nation. This is the State's largest celebration of service by partnering with the Kansas State Army ROTC, Ft. Riley, USO, and other organizations.
   Tom Fryer, Meadowlark resident, is a current member of the planning committee for the parade. The Grand Marshalls of the parade will be World War II Veterans. If you would like transportation to watch the parade, please contact the Hospitality Desk.
   Veterans Day falls on Nov. 11, each year as a day to honor our Veterans. Historically, Veterans Day originated as Armistice Day, which marked the end of the hostilities of World War 1. That occurred at the 11th hour, on the 11th day, of the 11th month.
     Nine out the 14 Veterans living at Meadowlark will be participating in the parade by riding a Meadowlark bus. Thank you to all those who have served and continue to serve our country! Of our residents that are Veterans, there are two that I would like to highlight their unique experiences in the military.
   In 1943, Ruth Wells, Meadowlark resident, graduated with a Bachelors of Science in Vocational Home Economics from Central Missouri University in Warrensburg, Missouri. Following graduation at the age of 22, she joined the US Marine Corps Women's Reserve and served her country during World War II. Ruth served as the only baker in the women's mess hall. "I baked the way my mother taught me, not how the military did." She explained, in military fashion, that she was instructed to dump all the ingredients into one mixer to make all the pie crusts at once. Instead, she made each pie crust by hand.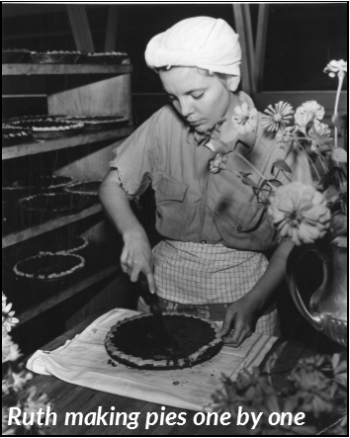 She stated that the Marines "was the best 20% of the Navy." Her younger brother, who served in the Navy, did not appreciate this comment. Ruth's family quickly became full of service members. Her other younger brother was drafted into the Army while he was still in college and died in service. 
Before her time in the military, she had never flown on a plane or rode on a train. Now she had to fly across the country to boot camp at Camp Lajune, North Carolina. Ruth was then stationed at the Marine Corps Air Station near Santa Barbara, California and lastly, Oahu, Hawaii.
Ruth will join nine other Meadowlark residents for her first year riding in the Veteran's Day parade.
Chaplain (Major General) Orris Kelly, Meadowlark resident, entered the Army in Jan. 1944, in the Army Specialized Training Program for the Reserve and attended the University of Kansas. From basic training at Camp Fannin in Texas, he then was sent to Ft. Benning, Georgia for Officer Candidate School. He graduated as a Second Lieutenant at the age of 18.
   In 1947, Orris separated from the Army to attend Kansas Wesleyan University. After graduating, he went to Garrett Theological Seminary in Illinois and was ordained an elder in the United Methodist Church. He re-entered the Army as a chaplain reporting to Ft. Leonard Wood in Missouri.
   Orris served in Japan, Korea, and as a Division Chaplain in Vietnam. He also served in many official positions, including the Director, Plans, Programs, and Policies in the Pentagon and as Executive Office to the chief of Chaplains. In 1979, Orris retired from the Army as Major General.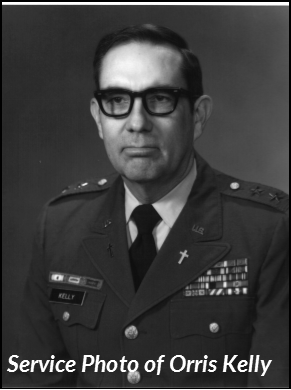 After retirement, Orris continued to serve on boards, advisory committees, and various associations, and in pastoral service roles. Orris was awarded the Distinguished Service Medal, Legion of Merit with 2 Oak Leaf Clusters, Bronze Star Medal with 2 Oak Leaf Clusters, Air Medal with 3 device, Army Commendation Medal with 2 oak Leaf Clusters and other decorations and honors.
---