Mingle for a Cause: 2nd Annual Art Event Raises Thousands for Memory Program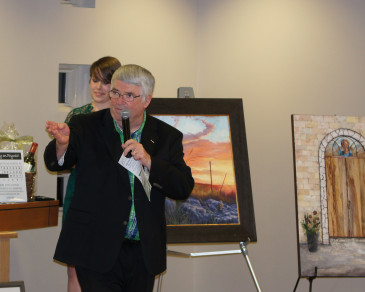 There were many winners at Art Mingle: Plein Air Affair.
Guest artists Kim Casebeer and Susan Rose saw 28 of their original landscape paintings leave in the hands of new owners via the event's silent and live auctions as well as a "buy it now" opportunity in their Artist's Showcase rooms. Casebeer's "Quiet in the Valley" generated the highest bid of the night at $1,750, while Rose's "Winter Meadowlark" was snapped up quickly for $1,300 in her Showcase room.
The silent and live auctions prompted 27 winning bidders, and a raffle prize – a framed, limited edition print of Maude Mitchell's "Hollyhocks and Milk House" –was the reward for another lucky guest.
The biggest winner of the night, though, is Meadowlark Memory Program.   After expenses, the 2nd annual event on March 29 generated about $35,500 for the program. In addition to the aforementioned raffle, live and silent auctions, and the Buy (a painting) Now option, ticket sales and sponsorships contributed to event revenue.
Several attendees gave to the program without taking home a piece of art. During the live auction, Special Programs Leader Michelle Haub described memory program opportunities and achievements, and then our volunteer auctioneer, Vern Gannon, asked guests to "raise their paddles" for the program. Twenty-six participants contributed $10,355 during this portion of the evening!
Meadowlark Memory Program, now in its third year, is open to anyone affected by memory and/or cognitive issues in the Flint Hills Region. The program offers support, valuable information and helpful strategies.
As was the case in 2018, major event sponsors were Community First National Bank, the Goldstein Fund, a supporting organization of Greater Manhattan Community Foundation, and Kellstrom Pharmacy. Additional support came from several other local companies, organizations and individuals, including K-State's Marianna Kistler Beach Museum of Art; Wayne and Cindy Sloan; Strecker Nelson West Gallery; Steve Ernst; resident Una Allen, and Copy Kats.
An exhibit of Maude Mitchell's work at Art Mingle was made possible by the Wamego Historical Society and Museum and Council Grove residents, Larry and Donna Berner. Mitchell (1875-1957) is the daughter of Wabaunsee County settlers and is known in the art community as a plein air (painting outside) pioneer.
The silent auction featured 41 items, such as paintings, prints, photographs, gift certificates and more. Eight residents and three employees contributed items to the silent auction, as well as several local and regional artists. Toto: A Native Kansan, a three-dimensional Cairn Terrier painted by James Coffman and Kellie Dillenger, generated the highest silent auction bid; the winner paid $335.
Friday's event was followed by Art Mingle: Fine Art Fair on Saturday, March 30. Twenty-four local and regional artists set up shop in the Community Room, Flint Hills Room, library and game room from 10 a.m. to 3 p.m. A wide variety of fine art, crafts and their creators kept a steady stream of customers entertained.
These events would not be possible without the assistance of several employees and residents before, during and after the events. Special thanks go to these 11, who join Becky Fitzgerald on the planning committee: Sarah Duggan, Steve Hall, Michelle Haub, Brook Marcotte, Jayme Minton, Barbara Nelson, Jay Nelson, Kim Richards, Michele Riter, Cindy Sloan, and Ginny Young. We also appreciate these resident Ambassadors, who assisted at the Fine Art Fair: Frances Holcombe, Alice Howard, Sue Hunt, Janice Parsons, and Sharon Smith. 
---