More HOGtoberfest Fun! - Grill Package Added to HOGtoberfest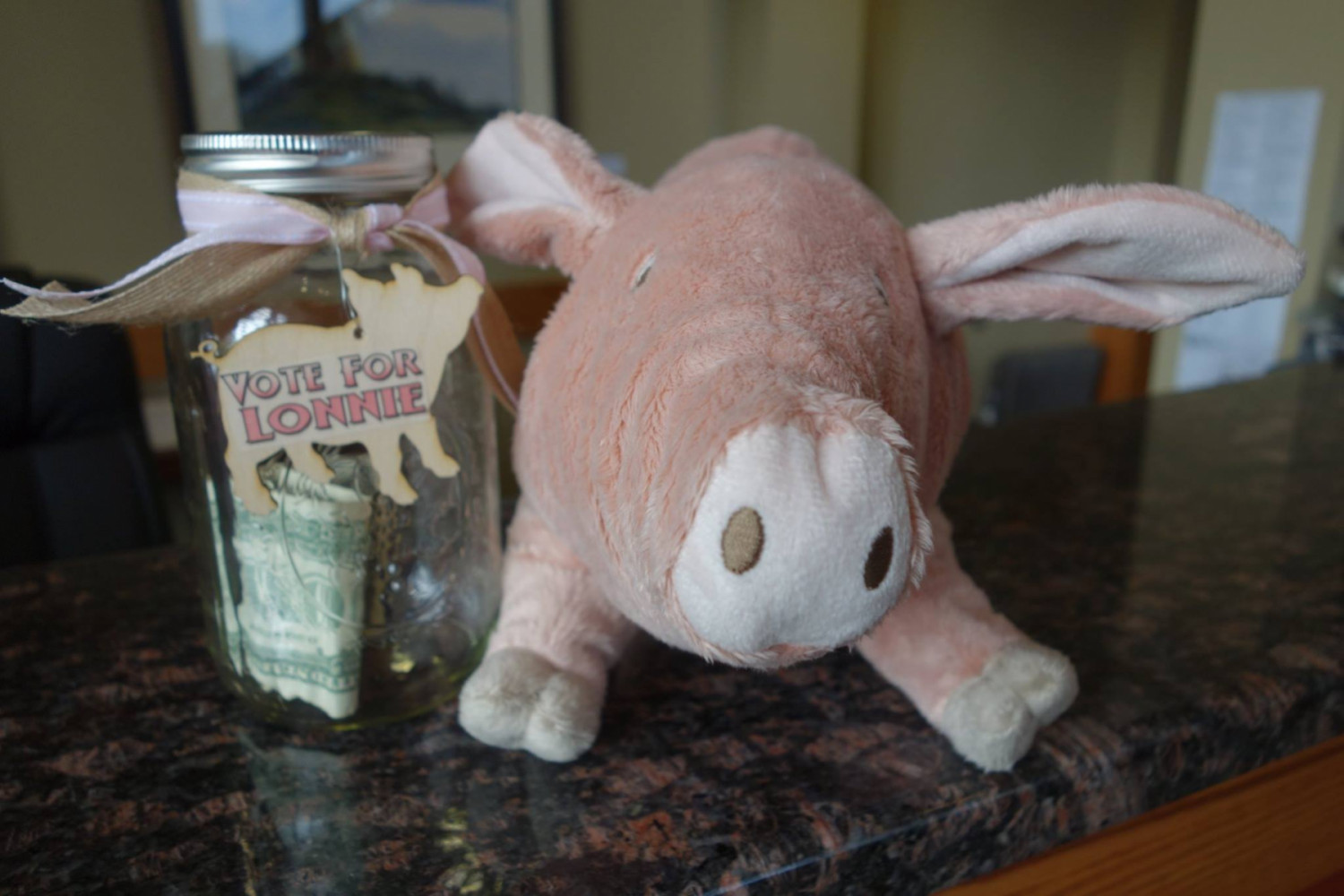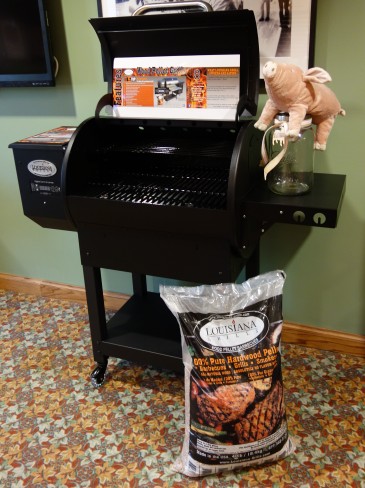 Oink! Have you heard the noise about HOGtoberfest? Not only do we have the chance to support the Good Samaritan Fund by eating tasty barbecue at Cox Bros. BBQ on Oct. 16 – a portion of the restaurant's proceeds will be donated to the Fund – but we also may donate to the Fund by participating in a HOG & Kisses Contest which began Oct. 1. Meadowlark Hills CEO Lonnie Baker and a Meadowlark Hills Foundation board member, Jackie Hartman, are two of five hog kissing candidates who have agreed to solicit votes in the form of dollars, with the candidate collecting the most money kissing a baby hog shortly after 6 p.m. in the parking lot at Cox Bros.
Two mason jars, decorated with the names of these two candidates, are now sitting on the counter of the Hospitality Desk. Please place your vote in the form of cash or check in the jar of the candidate of your choice. The other hog kissing candidates have their jars at their places of business and have begun their hog kissing campaigns. The other potential hog kissers are Bud Cox, co-owner of Cox Bros. BBQ and Coco Bolos; Tim Fitzgerald (Becky's husband), editor and publisher of Powercat Illustrated and GoPowercat.com; and a team of three DJs at Q 103.5, a Manhattan/Junction City area country music station.
Lonnie's and Jackie's jars will be in the Community Room on Monday, Oct. 6, during Town Meeting, so residents and staff members who haven't voted yet will have an easy chance to do so. Many residents don't have the need to carry cash or checks with them on the Meadowlark Hills campus, but please consider doing so next Monday to support this great cause.
If you'd rather vote online with a credit card, please visit the Meadowlark Hills website at www.meadowlark.org and click the Donate Now button, located on the home page. Online donations and contributions to Lonnie's and Jackie's jars will be accepted through Oct. 15. On Oct. 16, all of the jars will be on display and available for additional donations at Cox Bros. BBQ, 223 McCall Road.
Another HOGtoberfest fundraising tool is a Louisiana Grill package, purchased with the generous help of two Manhattan businesses: Cool Enterprises and The Backyard Kitchen. Chances to win the package, with a retail value of $1,100.75, are available at the Hospitality Desk for a suggested donation of $1 per chance or six chances for $5. The package includes a Louisiana Grill LG700 series grill/smoker, a quick-move side shelf, a 40-pound bag of `wood pellets and a $200 gift card that may be used at The Backyard Kitchen for outdoor cooking accessories, such as pellets, sauces, rubs, etc. The grill can be seen in the game room through Oct. 15, and will be on display at Cox Bros. BBQ during HOGtoberfest, where chances to win also will be available.
If you have questions, please contact a member of the HOGtoberfest committee, composed of Becky Fitzgerald, Tracy Musselman and Pam Reding. We appreciate your support!
---