Recognizing Compassionate Caregivers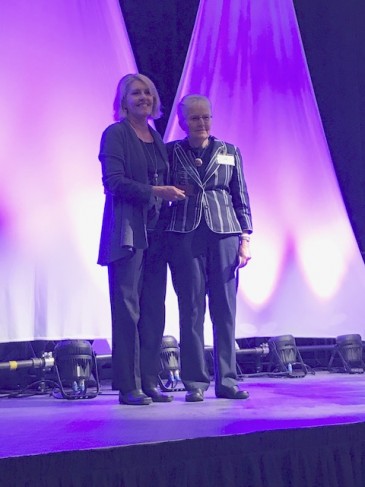 Alzheimer's Association Central and Western Kansas Chapter announced the 7th Annual Duane Smith Caregiver Award at the 2018 Kansas Education Conference on Dementia in Wichita Tuesday, Nov. 13. Resident Kay Shanks was recognized as a caregiver who supports individuals with Alzheimer's disease and related disorders. Duane Smith passed away in October and  his daughter, Becky, presented the award on his behalf.
   Kay was a loving caregiver and advocate for her late husband, Rev. Roger Shanks for 11 years. Kay's exemplary care for Roger and selflessness established her as a pillar of resources, not only in Meadowlark, but for the greater Manhattan community. Even under times of distress, Kay always focused on Roger's dignity and lived the example of person-centered care. Her interactions with Roger, family and the community consistently helped people realize it is possible to still have a high quality of life in the face of Alzheimer's.
    Kay was instrumental in helping the leadership of Meadowlark understand the value and need for a Memory Program to implement programming and educational opportunities for all those living with dementia and Alzheimer's in the Flint Hills region. Kay continues to serve on the Meadowlark Memory Leadership Team.   
---