Thursday, October 28, 2021 -

11:00am

to

10:00pm
Location: Kite's Aggieville Draft House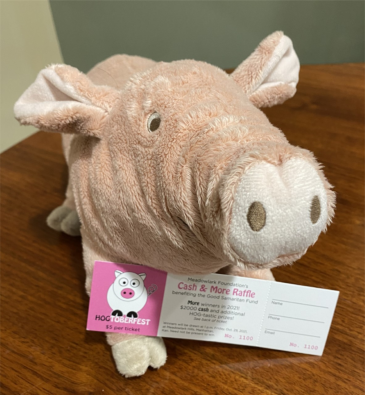 The 8th annual HOGtoberfest event will occur at a new-to-Manhattan venue, Kite's Aggieville Draft House! The cooking Cox brothers, Bud and Bobby, partnered with restaurant owner Scott Sieben to open Kite's Draft House this summer at the corner of 12th Street and Moro in Aggieville. (This new venture is in the north part of the building, while Kite's Bar & Grill remains in the south portion.) Mark your calendars to join us from 11 a.m. to 10 p.m. Thursday, Oct. 28. Ten percent of the day's proceeds will be donated to the Good Samaritan Fund, so plan now to enjoy lunch or dinner at Draft House that day. Meadowlark residents also may order food for delivery for either lunch or dinner. 
Moving the event to this new restaurant is increasing the food options for persons who choose to dine in. From 11 a.m. to 1 p.m., choose the pulled pork and chicken slider buffet or select an item from the Kite's menu. The Bar & Grill offers burgers, dawgs, and wraps, as well as soups, salads, and specialties, such as chicken fried steak, and spicy shrimp.
From 5 to 8 p.m., enjoy the whole hog roast buffet – What's HOGtoberfest without a hog roast? – or select an entrée from the Draft House menu, such as sautéed red snapper, Irish steak & biscuits, or meat loaf. 
To add to the festive atmosphere at Draft House, Dave Lewis of Dave Lewis Entertainment will keep the atmosphere lively with polka tunes and other types of music fitting a fall Oktoberfest-style party.
There's a way to get into the HOGtoberfest spirit prior to the big day: purchase Cash & More Raffle tickets. For $5 a ticket, buyers will have the opportunity to win the following prizes:
      1st prize: $2000 cash
      2nd prize: $500 shopping spree at Meadowlark Market
      3rd prize: YETI Hopper Flip 12 cooler and $50 The Fridge gift card, valued at $300
      4th prize: $50 gift cards to Kite's Aggieville Draft House, Mr. K's, and Rockin K's, valued at $150
Tickets are available now at the Hospitality Desk, at Verna Belles' Café, or by contacting a Meadowlark board member. Help us reach our goal of selling 1500 tickets! Academy Sports + Outdoors is an additional sponsor for this year's raffle.
All proceeds support the Good Samaritan Fund, which assists residents in a Meadowlark healthcare household who have outlived their financial resources. The Fund bridges the gap between reimbursement from the state of Kansas and the cost of quality care and life enhancement. In addition to the aforementioned Kite's Aggieville Draft House and the raffle ticket sponsor, Meadowlark Foundation appreciates the support of Meritrust Credit Union, McCullough Development, Burnett Automotive, BHS Construction, Blueville Nursery, and Standard Beverage.
 
---