Partner in Paving: New Corporate Friend Supports Trail Project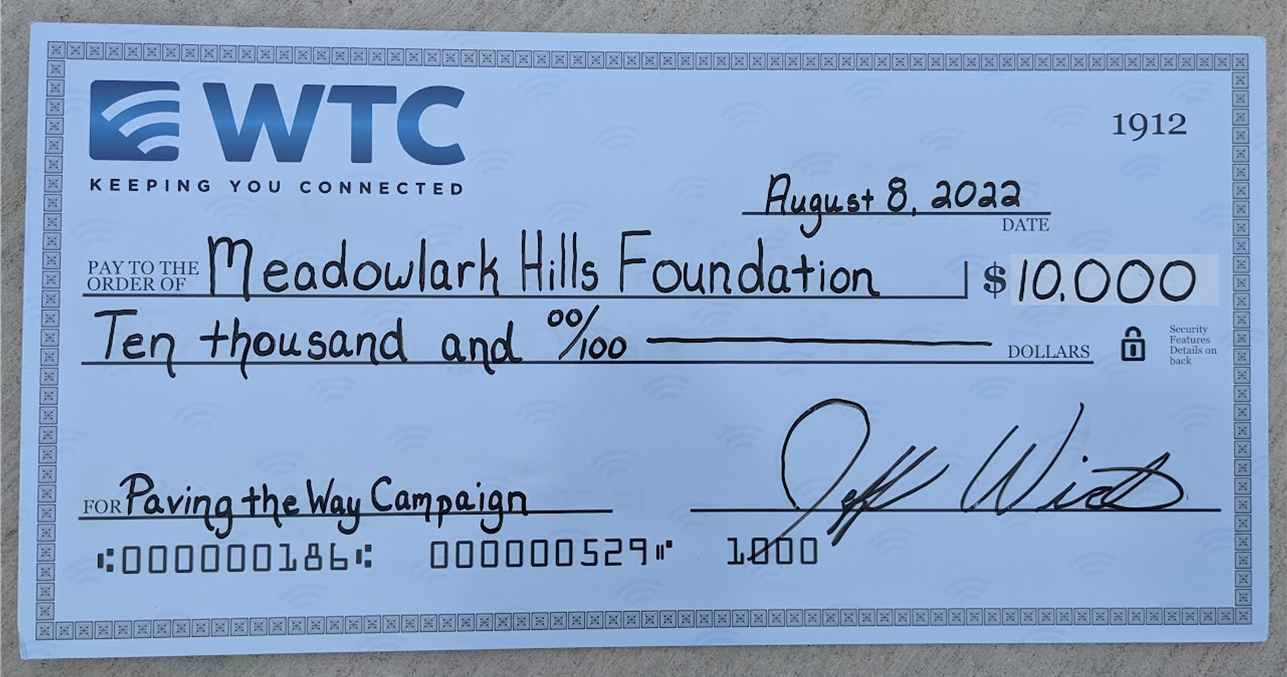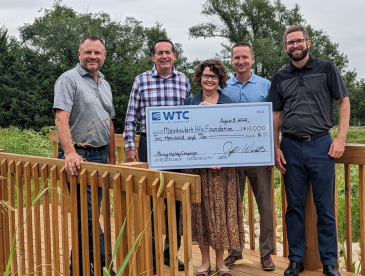 Meadowlark Foundation's loop trail project recently piqued the interest of Wamego Telecommunications Company, Inc., better known locally as WTC. Exhibiting a longtime philosophy of giving back to the communities they serve, WTC leaders this week presented a total of $10,000 toward the Paving the Way campaign — $5000 from WTC and another $5000 on behalf of the company from its lender, CoBank of Greenwood Village, Colo. 
"Meadowlark Hills is nothing short of amazing. From the compassionate care shown to all their residents, to the vital community services provided, there are many reasons why WTC is excited to partner with Meadowlark," said Jeff Sackrider, WTC's Customer Relations Manager. "We are proud to know that our gift will aid in the enhancement of the loop trail, and that it will be enjoyed by residents and visitors for many years to come. Manhattan is fortunate to have this industry leading facility located right here in our community."
WTC was able to boost their donation through CoBank's Sharing Success program. According to CoBank's website, these matching grants double the contributions of its customers, such as WTC, to benefit the charitable organizations and causes they care about most. In 2021, the Sharing Success program helped WTC financially assist four local organizations: Boys and Girls Club of Manhattan, Community Care Ministries, Pawnee Mental Health Services, and the Wabaunsee County Fair. 
WTC has provided high quality voice, internet, and video service to Wamego and the surrounding area since 1912. The pride employees take in meeting customers' telecommunications needs is replicated in their approach to philanthropy. Suzanne Hemphill, Commercial Operations Manager at WTC, noted that the company's charitable giving isn't limited to partnerships with CoBank. "We want to be good citizens in all of the communities that we serve," she said. For example, WTC assisted the St. Mary's Police Department with a movies in the park event for local youth, donated to the Konza United Way, and invested in the expansion of the Wamego Public Library. 
With WTC's recent gift, the Paving the Way campaign total in gifts and pledges is $128,650. Announced in January, the campaign was prompted by Jan Fink Call and Jeff Call of Huntingdon Valley, Pa., and Dan Fink of Highlands Ranch, Colo., who pledged to match, dollar for dollar, up to $40,000 to pave a portion of the loop trail which circles Meadowlark's campus. Their gifts are in memory of the Fink siblings' father, the Rev. H. Wayne Fink, who was pastor from 1976 until 1985 at Manhattan's First Baptist Church, where he continued First Baptist's efforts with five other local churches to create Meadowlark Hills. Their donations also were inspired by the late Ed Call and current Meadowlark resident Jo Call.
To date, the BHS Construction team has paved the trail from the east end of Donner's Way to the bridge north of the CenterPointe Physicians building. A circle of concrete was poured west of our bee hives, where meadow meets timber, which allows golf cart drivers to safely turn around. Additional paved improvements include a driveway and walkway at the Community Garden and a walkway from the trail to the CenterPointe parking lot.
---