Meadowlark Invests in Community Health & Wellness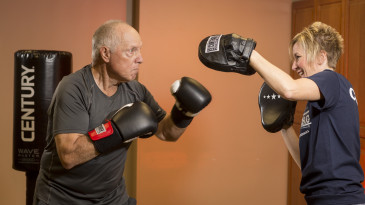 Meadowlark is taking steps to invest in the health and wellness of the Manhattan community and its members, specifically those ages 55 years and older, which includes a significant percentage of the local population. 
When Meadowlark opened in 1980, the organization was meeting a community need. Since then and into the future, Meadowlark will continue to be a resource for the region. A future project to construct a new building will feature opportunities to support adults age 55 and older with a gym, fitness classes, expanded wellness programming, outpatient therapy, and a fitness-focused indoor pool area. This building will sit adjacent to Bramlage House, Meadowlark's post-acute care. Bramlage House provides recovery support and rehabilitation for people as they transition from a stay in the hospital to a safe return home. Meadowlark's Bramlage House is, and has been, open to all eligible individuals in the region who need recovery assistance. 
With this new health-centered building, Meadowlark's Special Programs will be able to expand beyond the constraints of the current spaces on campus. It is never too early to focus on enhancing and cultivating high-quality brain health and through Meadowlark's special outreach programs, more individuals in the region will have the opportunity to connect with resources such as trained medical professionals, health-specific programming, and collaborations with other community entities like the Marianna Kistler Beach Museum of Art, UFM, and the Flint Hills Discovery Center.
Meadowlark is dedicated to its residents, team members, and the greater community. "Meadowlark has long been focused on supporting the local community both on and off its campus," said Lonnie Baker, Meadowlark CEO. "Focusing on the organizational priorities of health, wellness, and living life in way that is fulfilling is exciting and motivating for our team." 
What people are looking for in retirement has and will continue to evolve. In a recent Community Needs Assessment, it was determined that Manhattan needed and could support more age and income appropriate housing. People who are considering a move to Meadowlark have indicated they enjoy the lifestyle living on the campus has to offer and would like to see a modern living option with high ceilings, lots of natural light, underbuilding parking, and is pet friendly. This knowledge prompted the plan to build The Monarch, a 24-unit independent living apartment building centrally located on the campus. The building will be divided into two towers connected by a common space at the main level. 
A medical office building will be constructed on Meadowlark's land located off of Tuttle Creek Boulevard next to the Blue Hills Shopping Center. CenterPointe Physicians, PA will lease the 7,000 square foot clinic continuing their community focus of primary care for all ages. CenterPointe was founded in 2018 by Dr. Segen Chase and Dr. Matthew Floersch who have been practicing in the area for nearly 15 years.  Meadowlark's longtime partnership with CenterPointe lead to this opportunity to further enhance primary care for the residents of Meadowlark and the greater Manhattan community.
For nearly a decade, Meadowlark has been on a campus expansion journey focused on wellness, in addition to enhancing lifestyle options and amenities. On Meadowlark's campus there is a nature area at Bayer Pond and a trail system spanning the organization's 55 acres. Within the outdoor nature area, residents and families can enjoy a fishing pond, two pond-side gazebos, a birding glen, wildflowers, and a variety of terrains throughout the trail system, which also features two beautiful bridges.
In July 2019, the courtyard, which is centrally located in the main building, was renovated and is now home to a fire pit, putting green, walking path, covered seating, outdoor dining options, a bar and grill, and a bocce court.
In August 2020, Meadowlark's restaurant and pub expansion and kitchen renovation was completed. This project began before the COVID-19 pandemic broke and because of its completion date falling in the middle of heightened precautions, the restaurant opened for in-person dining for the first time on Feb. 8, 2021. Currently, in-person dining is limited to Meadowlark independent living residents, only. Prairie Star Restaurant has expanded pub and dining space and added event space that can accommodate up to 250 people. The grand re-opening date for the new and renovated restaurant has not been determined; however, at that time the Prairie Star Restaurant will be open to the public.
---