Art Appreciation: WONDERful event boosts Memory Program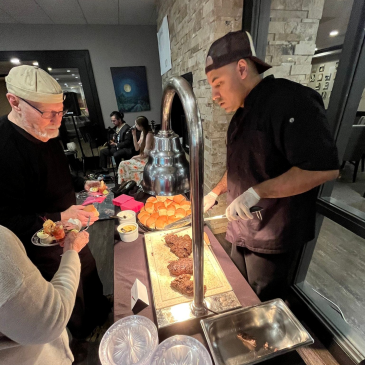 After an absence in 2022, Art Mingle, the primary fundraiser for Meadowlark Memory Program, returned to Meadowlark Foundation's opportunities calendar this spring. Prairie Star Restaurant and Event Venue was lively with the sounds of music, conversation, and laughter during a 5th event on April 28.
Art Mingle: Wonder & Whimsy attracted about 140 guests and volunteers, several of whom had not seen the event venue and/or had not been to a prior Art Mingle.
In addition to high praise for the venue and Prairie Star-catered food, the event seemingly ranked high on the good-times scale. Kristin Goering, one of the two painters whose work was showcased, wrote the following to event organizers on May 4:
"I just wanted to thank you all for last Friday evening. I was honored to be a featured artist and part of such a wonderful event.  Matthew (Goering) and I both had a great time!
More good news comes when reviewing the event's financial spreadsheet. Total revenue surpassed $55,000, which is $1,122 higher than income from 2021's event. This total is a combination of sponsorships, live and silent auction proceeds, Artist Showcase purchases, ticket sales, raffle ticket sales, and donations. The total does not include gift-in-kind contributions, such as goods and services that were offered in the live and silent auctions.
Here's a look at the event by the numbers:
   Featured artists: 2
   Donated or provided items: 100+
   Winning bidders: 30
   Memory Program donors during live auction: 22
   Live auction revenue: $11,675
   Silent auction revenue: $7,100
   Artist Showcase revenue: $6,210
   Donations during the live auction: $5,550
   Additional donations prompted by Art Mingle: $4,022
   Sponsorships: $12,000
   Raffle tickets: $840
   Gift-in-kind contributions: $16,520+ (several donated experiences have indeterminant value)
   Gift-in-kind contributors: 42
Thank you to those represented in the numbers above who helped ensure the success of Art Mingle, especially the event guests and sponsors: Community First National Bank, Steel & Pipe Supply, WTC Fiber, BHS Construction, and SNW Gallery & Custom Frames.
The event committee -- Sarah Duggan, Community Relations Director; Becky Fitzgerald, Development Director; Michelle Haub, Special Programs Leader; Brook Marcotte, Dining Services Leader; Jayme Minton, Support Services Director; Kim Richards, Education Specialist at K-State's Marianna Kistler Beach Museum of Art; Alyn West, owner of SNW, and Ginny Young, a local artist–also gratefully acknowledge auctioneer Mike Temaat, the Prairie Star Restaurant team, and many volunteers.
If you have a suggestion for a future Art Mingle, please contact a committee member.
---