Living Life with Endurance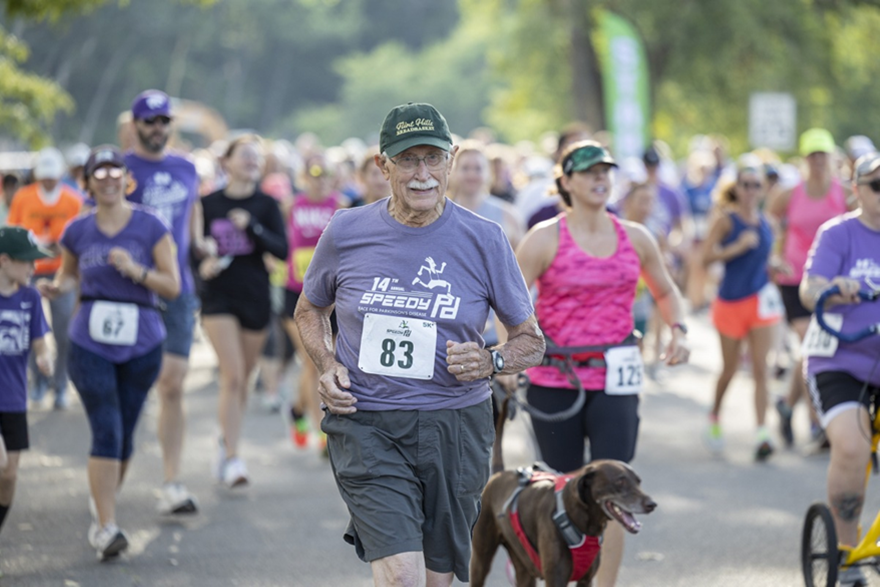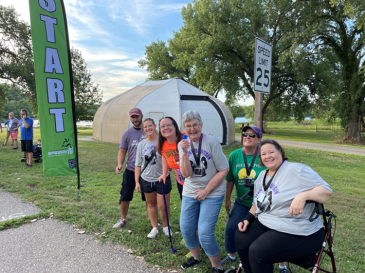 The last weekend in August brought opportunities for the Manhattan community to learn more about Parkinson's disease, participate in exercise, and obtain a first-hand look at people living life with endurance.   
On Friday evening at Empowered LIVE!, Bill Bucklew, a gentleman diagnosed with young-onset Parkinson's disease (Pd), presented to a room of about 90 people about his experiences of walking across the United States and other events he has completed to raise awareness for Pd and funds for the Michael J. Fox Foundation. These feats would be challenging for most, but add the complications from Pd (fatigue, muscle rigidity, slowness of movements, frequent doses of medication, postural instability), and one understands the definition of endurance with more clarity.
On Saturday at Tuttle Creek State Park, the 14th annual Speedy Pd Race for Parkinson's Disease, presented by Community First National Bank, provided participants and spectators with more examples of endurance as VIPds (Very Important People with Pd) sang the National Anthem and participated in the Half-Mile Memorial Walk and/or Don Rasmussen 5k. For some of the VIPds, the half-mile walk was a nice warm-up for the 5k race. For others, it took every ounce of endurance and support from others to cross that FINISH line. But isn't that what living life to the fullest is all about? Giving all you have to prove to yourself that you left it all out there with no regrets. And yet, we also must realize as we age and/or as disease tries to control us that we must reach out to others to help us optimize our quality of life.
Meadowlark Parkinson's Program is that resource for people at Meadowlark, in the greater Manhattan community, and neighboring counties. The program helps people learn and understand Pd, exercise to help combat the physical and emotional symptoms, engage with others to ward off the depression and apathy symptoms of the disease, and most of all, to give hope and encourage those with Pd and their family/care partners that they can live well with Pd.  Meadowlark Parkinson's Program is in its 16th year of providing FREE education, exercise, outreach and support to help people live their best lives with endurance and connections. The program continues to be the only one of its kind in the state of Kansas that provides this breadth of services free of charge to those affected by Parkinson's! Speedy Pd Race for Parkinson's Disease is the primary fundraiser that allows this to happen. This year, 596 people registered for events, including virtual participants, and the race has raised over $60,000 through sponsorships, donations, and registration fees. These numbers grew from 2021 and are moving closer to pre-covid numbers.
The leaders of the Parkinson's Program hope that each of you reading this story, will share with others that we believe and know that we can help those affected by Pd. One does not have to live at Meadowlark to use our services. For more information, please contact Michelle and Bridget at (785) 323-3899 or email parkinson@meadowlark.org. Learn more under the Community Services tab at www.meadowlark.org.
---