Sharing a Legacy - 17th annual Legacy Award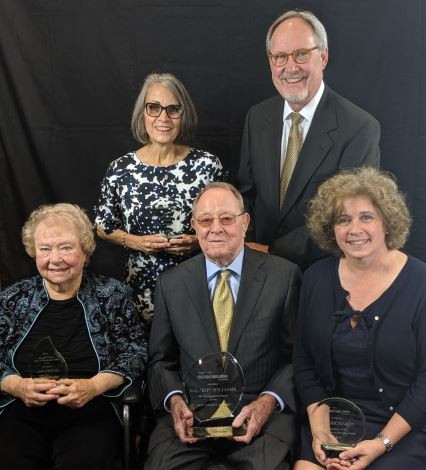 Meadowlark's amenities, services, and people are three facets to a gem of a community that's better prepared and skilled at helping us navigate life's pathways. At the 17th annual Legacy Society Banquet on May 13, Meadowlark Foundation had the pleasure of recognizing five friends who have been leaders and cheerleaders as we've walked together. Kim Richards, Cindy and Wayne Sloan, Jane Westfall, and Kip Williams have done much to keep Meadowlark a step ahead.   
   Kip Williams, a Legacy Society member, and winner of the Foundation's 2019 Legacy Award, speaks humbly and simply about the many substantial donations he's made to benefit K-State athletics facilities and Meadowlark funds and projects.
   "It's what you're supposed to do in life, right? Help things along," Williams said. Since the mid-1990s, Williams has made numerous, significant gifts to football program facilities, such as the Vanier Football Complex. He's also contributed to K-State basketball's capital projects and has supported the Boys & Girls Club of Manhattan.
   Meadowlark's current courtyard project benefited from Williams' generosity; he made a lead, six-figure gift. He's also made significant gifts to the Good Samaritan Fund, contributed to the Verna Belle's renovation project and makes annual gifts on Grow Green Match Day.
   Also recognized at the May 13 event were Cindy and Wayne Sloan, who received the Good Samaritan Award; Kim Richards, Education Specialist for the Marianna Kistler Beach Museum of Art, winner of the Johanna Lyle Excellence in Service Award; and resident Jane Westfall, winner of the Margaret Wheat Spirit of Meadowlark Hills Award.
   About 110 residents, staff, current and former board Kip Williams receives annual Legacy Award at 17th annual event members and Legacy Society members joined the winners at this year's event, which was held at the Bluemont Hotel. Prior to the awards presentation, guests viewed a video, "Meadowlark Memory Services: A Step Ahead," which highlights Meadowlark's innovative steps toward memory care and programming. Interviews with persons who have experienced and benefited from these services -- Bob Kruh, Teresa Minton, and Doug Tippin – helped to describe how memory care services have impacted their lives. The majority of the video production work was donated by New Boston Creative Group, Manhattan.  
   Legacy Society members invest in Meadowlark Hills and ensure the future of Meadowlark's programs and services. New members are always welcome! If you'd like to know more about Society membership, please contact Becky Fitzgerald, Development Director, at 323-3843.
---