FUN, FUN, FUNds!: Trail campaign goal achieved with Paving the Way Carnival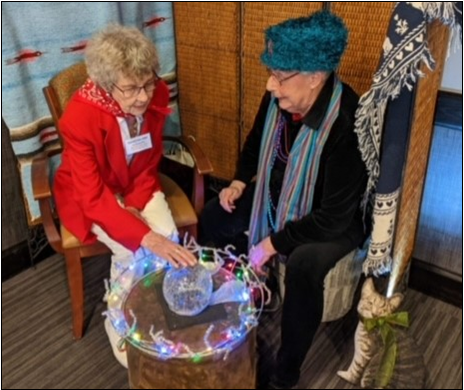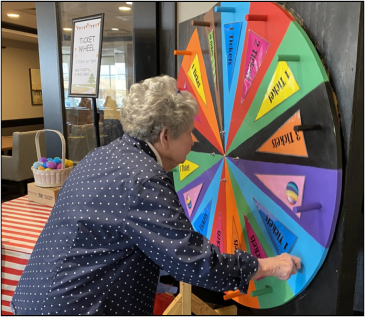 The fortune-teller who sat in a quiet corner of the Manhattan Room couldn't have said it better. Inviting attendees to trade a ticket for words of wisdom and a gaze into her crystal ball, resident Sue Hunt channeled her inner prognosticator during last Friday's Paving the Way Carnival. What did she predict? Happy trails for everyone!
With the carnival revenue counted, the "Sue Sayer's" forecasts of the Meadowlark community enjoying a paved walking path have proved to be on the money. The FUNds raised at the carnival plus a 100-percent match promised from the Meadowlark Foundation Board of Directors has pushed the Paving the Way total past the campaign goal of $92,000! In addition, a sponsorship fee from Meritrust Credit Union and a gift certificate from Target, which was used to purchase prizes, offset event expenses. 
The carnival was prompted by a suggestion from the Meadowlark Ambassadors and their desire to support the campaign. A small team of staff members worked with the Ambassadors to plan and execute the event. Many are to be thanked and congratulated for their efforts before, during, and after the carnival. This number includes those who donated prizes, prepared the games, and prepared or served carnival food, as well as those who volunteered at the event, attended the event, and/or donated toward the project. 
Here's a closer look at the Carnival numbers:
1615 food and game tickets purchased at $1 each
390 dollars donated
42 volunteers 
According to Engagement Specialist Jana Armfield, the volunteers were a mix of student-athletes from K-State Track & Field; students from the K-State Physician's Assistant Club and Leadership Studies; a Target employee and her daughter; Meadowlark community volunteers, Meadowlark Ambassadors, and a few staff members. 
 11 games, including Bowling, Cornhole, a Cupcake Walk, Lollipop Pull, Meritrust Piggies in a Pen, and a 

Prize Wheel. 

6 food /drink stations offering seven carnival-inspired treats 

2 fortune-tellers (Resident Carole Fager also gazed into the future.

1 elusive floating duck worth 10 prize tickets
The Paving the Way Campaign was prompted by a matching challenge of $40,000 from Jeff Call, Jan Fink Call, and Daniel Fink in memory of the Rev. Wayne Fink. Their gifts also were inspired by resident Jo Call and her late husband, Ed. Campaign donations will be used to enhance Meadowlark's loop trail by paving a section that stretches from Stillman Cemetery to the east end of Meadowlark Valley. In addition to a ribbon of concrete, Paving the Way funds also will cover the cost of a bridge and drainage improvements installed last fall near the CenterPointe Physicians office.
---