Furniture for a Find - Meadowlark Market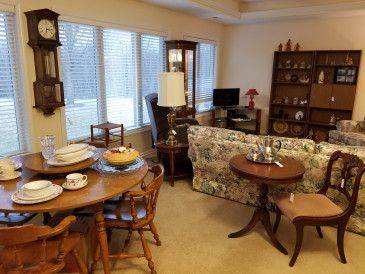 You came, you saw, you purchased! After 13 hours over three days, much of the merchandise at Meadowlark Market has found new homes. A soft opening on March 22 for residents and employees was followed by an opening to the public on Saturday and Sunday, March 30 and 31. Sales receipts for those three days total $3,736.03, and benefit our Good Samaritan Fund!         
 Because so much was sold in these first hours of operation, staff quickly realized that opening the shop every weekend is not realistic. To allow ample time to move, arrange and price new merchandise, Meadowlark Market will be open on "Final Friday" weekends: the final/last full weekend of the month. Here are upcoming dates: April 26, 27 and 28; May 24, 25 and 26; June 28, 29 and 30; July 26, 27 and 28; Aug. 23, 24 and 25. Hours are 10 a.m. to 3 p.m. on Friday and Saturdays, and from noon to 4 p.m. on Sundays. The Market is located on Meadowlark's campus at 1217 Meadowlark Circle. 
 To date, 20 volunteers – residents, Passport members, K-State students and others – have trained to operate the shop with staff oversight. Staff received high praise about the Market experience from shoppers. The friendliness of the volunteers, the selection of merchandise and the fair prices were all noted.
 Meadowlark Market accepts cash or credit card as payment for items; Meadowlark residents may pay with a check providing the check is printed with the resident's name and Meadowlark address. All sales are final, so please inspect your treasures before purchasing.
 If you have an item or items you'd like to donate, please contact Becky Fitzgerald at 323-3843.  Donations will not be accepted at Meadowlark Market during business hours. If you are seeking a particular item and don't see it while shopping, please submit a request to a Market volunteer, and he or she will add your name and wanted/needed item to the Market's "wish list." Thank you for your patronage, and please tell your friends about this opportunity!
---