Meadowlark Hills Receives PEAK Award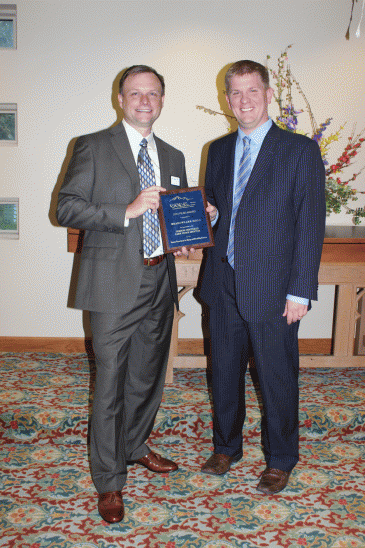 Meadowlark Hills Retirement Community received the PEAK Award on Thursday, Aug. 22, during a presentation ceremony in the MeadowlarkHillsCommunity Center.
The award was presented to Lonnie Baker, CEO at Meadowlark Hills, by the Secretary for Kansas Department for Aging and Disability Services (KDADS), Shawn Sullivan.
Secretary Sullivan addressed the attendees at the presentation, "I look on with pride at the great change that Meadowlark Hills has made through out the years and congratulate the organization on the willingness to go through change and be pioneer for transformation. I look forward to great things in the future." 
For the past ten years, KDADS has been recognizing nursing homes for successfully implementing culture change through the Promoting Excellent Alternatives in Kansas Nursing Homes program commonly known as PEAK. Meadowlark Hills has won this award four times, including: 2002, 2004, 2005 and 2009. 
PEAK awards are issued annually to homes that accomplish significant improvements toward person-centered care in the targeted areas of resident choice, staff empowerment, home environment and meaningful life activities. Person-centered nursing homes have moved away from the institutional model of nursing home care and toward a more home-like environment in which residents have a say in their day-to-day lives. 
In addition to Meadowlark Hills, PEAK award winners for the year include: 
BrewsterHealthCenter, Topeka
Evergreen Community, Olathe
Lake Point Augusta, Augusta
Lone Tree Retirement Community, Meade
Medicalodges Columbus, Columbus
Pleasant View, Inman
Showalter Villa, Hesston
The PEAK award event was attended by Meadowlark Hills residents, employees and board members, and Manhattan community members. A brief meet and greet followed the presentation. In addition to Secretary Sullivan, speakers during the event included Meadowlark Hills Board of Trustees member Bill Meredith and Meadowlark Hills employee Rachel Koch.
Meadowlark Hills, a not-for-profit continuing care retirement community, opened in 1980 when a group of Manhattan citizens partnered with six local churches to create the organization, which is built on the concepts of continuum care, respect and compassion.
Since its opening, the organization has undergone great transformations to encompass and honor the household model. Meadowlark Hills is each resident's home. Staff, residents and board members are committed to enhancing quality of life by nurturing individuality and independence. Meadowlark Hills is growing a value-driven community while leading the way in honoring inherent senior rights and building strong and meaningful relationships with all whose lives are touched.  The organization is not only serving its own residents, but we are helping others around the world to change the culture of long-term care.
---