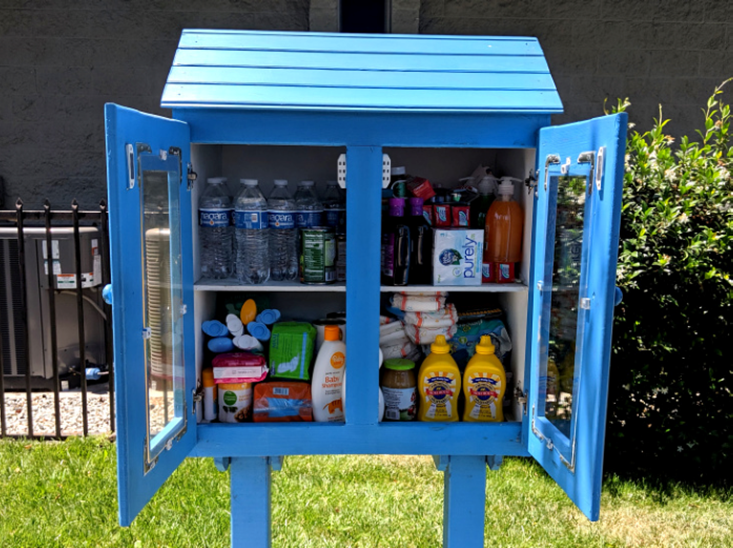 Last week, Meadowlark Ambassadors hosted a campus-wide food and hygiene drive to benefit the Blessing Boxes of Manhattan/Riley County.
The drive was inspired by Meadowlark team member Michelle Lawson, who had seen a recent news article that mentioned how numerous Blessing Boxes were turning up empty due to rising food costs and continuing effects from the pandemic. 
Her idea inspired a call to action! Residents, employees, and passport members were invited to contribute to the event. Donations were collected between 10 a.m. to 1 p.m. Tuesday, Aug. 23, in the Game Room in Meadowlark's Community Center. Meadowlark Ambassadors were available to sort, box, and tabulate donations. The Ambassadors counted each item and by the end of the day a total of 1,116 goods were donated!
An abundance of cereal, oatmeal, canned vegetables, canned fruit, deodorant, shampoo, conditioner, and toothbrushes/toothpaste were just a few of the many items donated during the drive. The drive exceeded our goal and Meadowlark was able to fill a total of 12 boxes around the city of Manhattan, as well as the box located at Riley Presbyterian Church in Riley, Kan. 
Staff representatives from several service areas volunteered to take donations to their assigned Blessing Box or boxes and filled them later that day. Two representatives mentioned during their outing to fill their assigned box, the boxes were empty when they arrived. Individuals came to collect the donations they were placing in the box as they were finishing up. A woman filled up a box of items to take home and she thanked us for the help we were providing her, as she was new to town and does not have much.
As word spread, we heard back from a few churches that sponsor Blessing Boxes around Manhattan. Reverend Caela Simmons Wood at First Congregational United Church of Christ said, "On behalf of our congregation and all in the neighborhood who regularly use our Blessing Box THANK YOU for this gift. We are so grateful that you were able to complete this project and raise awareness about the Blessing Boxes throughout our community. It's true that the boxes are visited many, many times every day and it really is a community-wide effort to keep them stocked."
Kathy Smith at Manhattan First Free Methodist Church said, "Initiatives from the community like this make the community better and continue to show how much love and compassion each person has for the other." 
Thank you, all, who volunteered or contributed during the drive. It's always a joy to see the Meadowlark community come together and contribute to a worthy cause! 
---