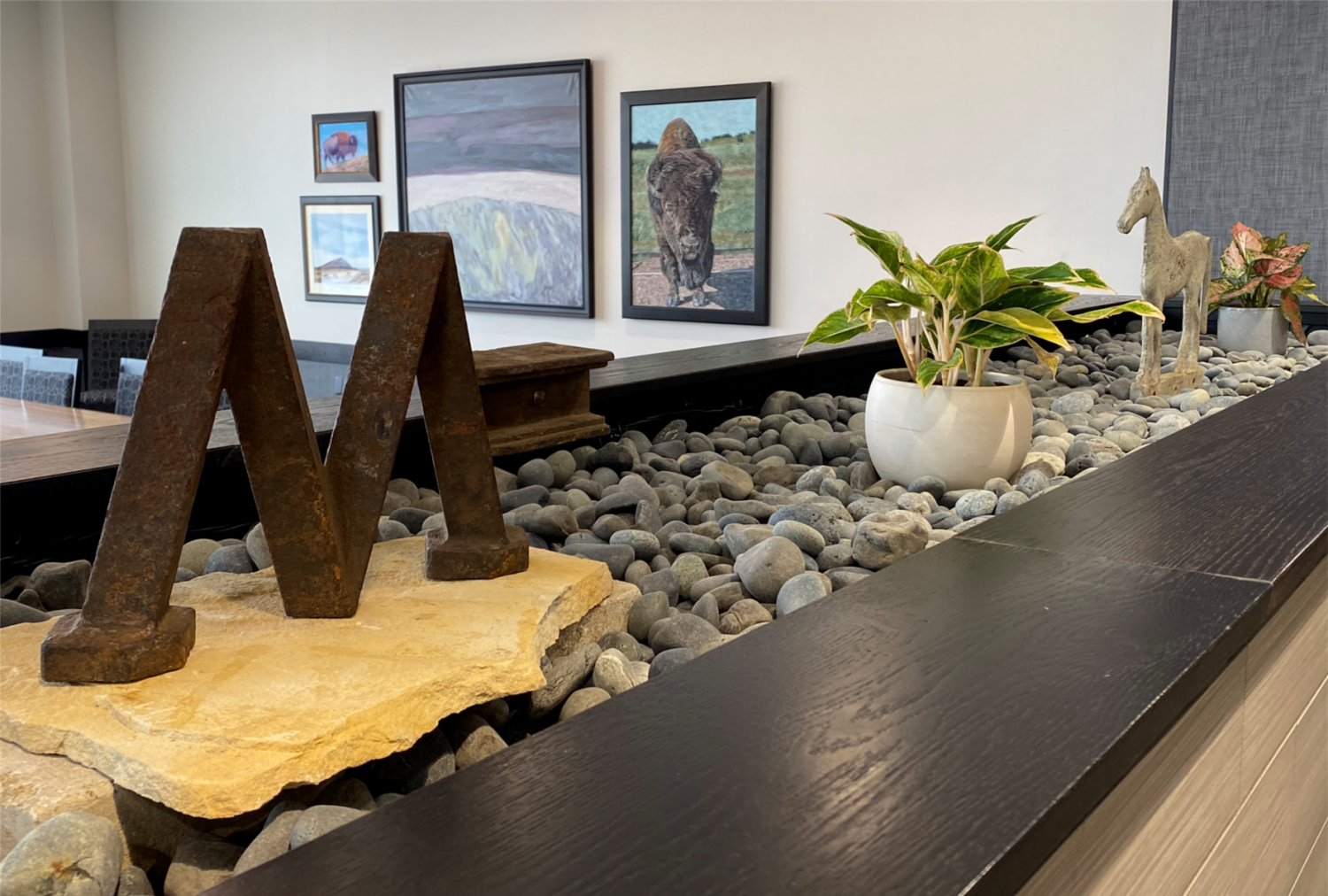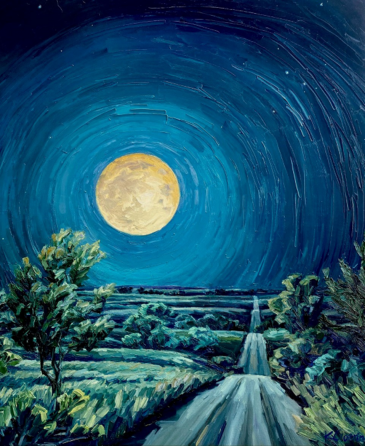 Prior to opening the renovated Prairie Star to residents on Feb. 8, Meadowlark's leadership team couldn't help but notice the blank canvas of the neutral-painted walls. Everyone agreed that the new spaces would benefit from the color and interest that works of art lend to our environments.
Jayme Minton and Becky Fitzgerald, staff liaisons to Meadowlark's resident Art Committee, accepted the task of decking the walls, and they started with paintings already in Meadowlark's art collection.
Minton, Support Services Director, plucked Diana Werts' "Wild Things" from the wall next to the west elevators and hung it near the restaurant entrance.
"That painting says 'Prairie Star' to me," Minton said. "It's colorful and has movement. The prairie grasses seem to be blowing with the breeze."
She also opted to take the large Zac Barnes painting that had hung above the Hospitality Desk and placed it in the entrance to the event space.
"The vibrant scene depicted in that painting seems to be indicative of all the fun and interactions we'll have at Prairie Star," Fitzgerald said. "I think it really sets the tone for what to expect when someone enters  through the glass doors."
Additional paintings that the pair repurposed at Prairie Star include a large, colorful abstract called "Through a Spring Window" by Jane Booth, landscapes by Cally Krallman and Judith Mackey, two figurative oils by Joseph Lorusso, a bright two-canvas work depicting iconic Manhattan landmarks by
Jacob Luke, and abstract landscapes by Lisa Grossman and the late Bill McCall. Bronze sculptures by Phil Epp now sit in one of the pebbled planter areas.
If you're counting, that's 13 works of art, but there were many more vacant walls and two more long planters that demanded attention. Several Internet searches, two gallery visits, one auction, and one visit to a Prairie Star cottage later, another 57 pieces were added.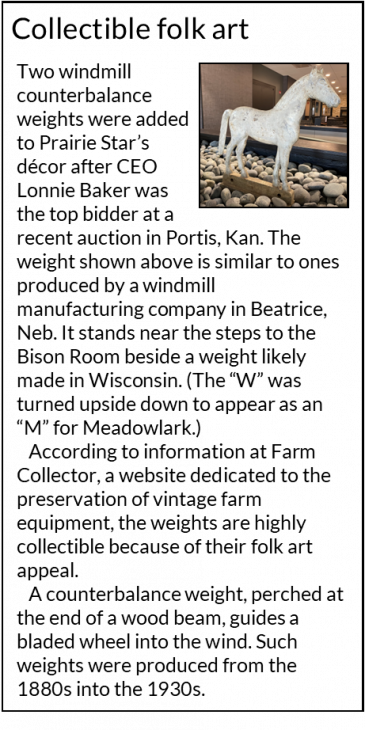 Forty-four of the new arrivals (see photo above), ceramic plates in colors of black, red, rust, ecru, and white, were thoughtfully placed above three tables for two. The darkest plates are in the center, with  the lighter tiles on the outer ends of the installation. Fitzgerald and Minton were excited to see that shapes resembling the birds in the Meadowlark logo appear on five of the plates.
Artist and resident Oscar Larmer donated the large centerpiece to a four-painting grouping in the BisonRoom, a private meeting/dining space in the restaurant's southwest corner. The scene depicts a spot east of Tuttle Creek Reservoir, he said.
Larmer added that he thinks his landscape teams well with three bison paintings on the room's west wall. A Larmer watercolor called "Grazing Bison" joins a pastel by Jean Terry and a tall acrylic called "Buffalo Xing" by Nathan Novack. (See cover photo.)
"I had been creating several rural structures with this impressionistic pixel(dots) background, so I wanted to try it with an animal and have always been intrigued by bison. They are so majestic and firm standing their ground," said Novack of Holcombe. My goal was to capture one up close.
Keeping with the bison theme, Minton selected three hand-built and thrown ceramic sculptures  by Brian Horsch, who lives near Stull, Kan. His works joins a glazed ceramic bison in shades of black and green in one of the planter "boxes." This fine fellow was donated by resident bison fanatic Duane Miksch.
"Little Ones Count Too," (at right) an abstract oil by Johannes Boekhoudt, hangs by the bar. Boekhoudt, 
born on the Dutch Caribbean island of Curacao, now lives in Houston and is represented by SNW Gallery & Custom Frames.
The catastrophic event of Sept. 11, 2001, inspired him to work toward his dream, to be an expressionist artist and raise his voice through his paintings.
"'Little Ones Count Too' is inspired by little kiddos. At many times their voices are not heard and their rights can be violated or ignored," Boekhoudt wrote in an email to Fitzgerald. "As you can see, a child is running toward you so you cannot forget them."
Although Strecker Nelson West Gallery primarily represents regional artists, Boekhoudt's work intrigued gallerist Alyn W
est when the now Texas resident approached West last summer.  
"Johannes has a different style than the other artists we carry, and to be honest, he brings a diversity that we are sorely lacking," she added.
Boekhoudt's painting also helped achieve Minton's and Fitzgerald's goal to add variety to the pieces selected for Prairie Star. His art is one of four new, colorful abstract pieces joining the landscapes and figurative works.
Nancy Teague's "Exit to Adventure," on a wall west of the event space, reflects her fondness for energetic strokes and playfulness. Paintings by Jerry Moon and MJ Rigby add brightness to the cozy banquette seating areas of the pub. 
  
---