Donate Your Way: Resident Donates Car to Meadowlark Home Health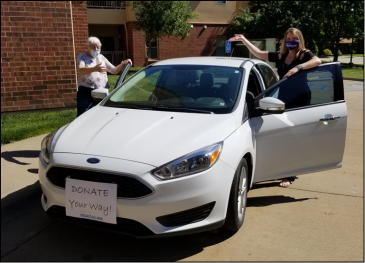 For several months, Meadowlark Home Health had another vehicle on their wish list. As their client list and service area has grown, so has the staff's need for reliable transportation.
For several months, Pat Hook, apt. 417, hasn't driven her car. Navigating Manhattan's busy and clogged-with-construction streets held less appeal last year, and then a dead battery and the stay-at-home order this spring prompted Hook to ponder selling her 2015 Ford Focus.  After learning  the Home Health program could use another vehicle, Hook decided to donate her car through Meadowlark Foundation.
"We will use the car for transporting residents to appointments, as well as the potential for our Topeka nurses to use it for trips between the Topeka and Manhattan offices," explained Angela Gerena,  office manager for Meadowlark Home Health. Hook's car brings the Home Health fleet total to five.   
Meadowlark is covering the cost of any needed repairs, and
Hook received forms documenting the charitable contribution. She is pleased the car will be put to great use, and she no longer has the worry of the car's upkeep. "I am happy to get rid of it," she said.
---