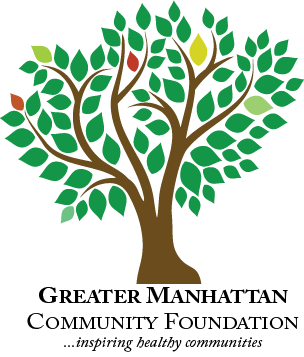 Meadowlark Hills Foundation has enthusiastically accepted an invitation to grow our "green" by participating in the 3rd annual Grow Green Match Day on Wednesday, April 22. This event holds incredible opportunity for Meadowlark Hills Foundation. On that day, the Greater Manhattan Community Foundation will match donations made to an endowment fund we have with GMCF — our long-term savings — and we could potentially receive more than a $10,000 match. The match money earned by each of the nearly 40 participating non-profit groups is an outright grant and may be used as each organization wishes. Phil Howe, a former Meadowlark Hills board member and the 2004 Legacy Award winner, is providing the matching funds. If you see Phil, please thank him for his great generosity.
Here's how the event works:
Although gifts of any amount are welcome and encouraged, individual contributions ranging from $25 to $1,000 per organization will receive a local match at $.50 per $1, so a $1,000 gift can receive a $500 local match. Already, two Meadowlark Hills residents have each pledged to make a $1000 donation, meaning at least $3000 will be added April 22 to an endowed Meadowlark Hills Foundation fund.
Gifts may be made by cash, check, or online between 7 a.m. and 7 p.m. at event headquarters, located at Colony Square Atrium, 555 Poyntz Ave., or online from a remote location. Because there are prize incentives for donations made at event headquarters, Meadowlark Hills is providing transportation at 10 a.m. and 4 p.m. departing from the Village Entrance Wednesday, April 22, who are willing and able to donate in person. Please register in the Blue Book if you'd like a free ride to the event.
Donors who attend the event will be entered for a chance to win $100 for the participating charity of their choice. (A winner will be chosen every hour from that hour's donations!) And, the three participating not-for-profits with the most donors coming in person to the event will win extra prize money; $500 for 1st place, $300 for 2nd place, and $200 for 3rd place.
If you cannot visit event headquarters in person, either on your own or as part of a Meadowlark Hills group, please leave your donation at the Hospitality Desk, and your gift will be submitted for you. The concierges will accept donations beginning April 21 through 5 p.m. on April 22. Checks should be made payable to Greater Manhattan Community Foundation and dated April 22, 2015, no matter which day they are submitted.
Donations are tax-deductible. Donations made by cash or check will receive a receipt letter after the event. Cash gifts will receive a hand-written receipt that day and a tax receipt by mail. Online gifts will generate a receipt at the time of the donation; an additional receipt will not be mailed.
Grow Green Match Day is an opportunity to increase our endowment so that we can enrich our programs for even greater impact for years to come. Our endowment with Greater Manhattan Community Foundation is one way we can continue to develop our services and meet the future needs of our campus and community. 
If you have questions, please contact Becky Fitzgerald, Development Director, at 323-3843. Thank you for considering this opportunity!
---