COVID-19 Updates: We're Open!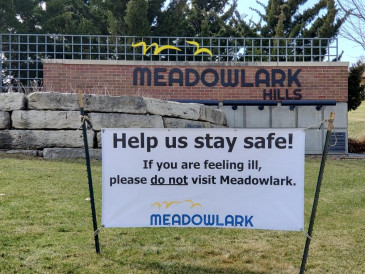 See below for more information about the current limitations and developments for Meadowlark's COVID-19 response. Archived newsletters and press releases are included at the bottom of this page.
Masking at Meadowlark
Masks are not required for independent living residents and guests in the Community Center areas. All residents, guests, and Meadowlark team members should continue frequent hand washing. Please stay home if you are feeling sick.
Meadowlark team members will continue masking in all service areas. Protocols and procedures may be different for residents and guests in long-term care and assisted living areas.
Meadowlark Community Center Spaces are OPEN!
Meadowlark's Community Center spaces, including Prarie Star Restaurant, Pub, and Event Center, are open to the community at large. Tours of living areas at Meadowlark are being offered in-person and can be scheduled by contacting the Sales Team. 
Meadowlark's Special Programs, the Parkinson's Program and Memory Program, are hosting in-person opporutnities in addition the the virutal programming that was offered during the COVID-19 pandemic. Read the weekly Meadowlark Messenger for up-to-date times and locations of classes for both programs.
Visitors without symptoms of illness, a current or suspected COVID-19 diagnosis, or contact with someone who has a positive COVID-19 test or is under investigation, are able to visit Meadowlark's campus. This includes common, public areas in Meadowlark's Community Center such as Prairie Star Restaurant and the Courtyard.
Visitation to licensed areas, which includes skilled nursing and assisted living, must still be scheduled. Residents who reside in the independent living areas of Meadowlark have been able to accept visitors to their homes without restriction since Monday, Feb. 8, 2021.
In January 2021, Meadowlark conducted its first two vaccine clinics with their partner pharmacy, Walgreen's Pharmacy. A third clinic was completed in February 2021. Over 90% of residents and over 70% of staff have elected to receive the vaccine.  
Meadowlark continues to educate staff, residents, and families on symptom awareness for COVID-19 and infection control best practices and have clear protocols for staff to stay home and not come to work if they are ill or symptomatic.
Meadowlark is a local, not-for-profit continuing care retirement community located in Manhattan, Kan. Since is opening 1980, Meadowlark has met community needs since and will continue to be a resource for health-centered and lifestyle-oriented support.
Stay informed
Meadowlark residents can tune into Touchtown, television channel 1960, for updated information regarding Meadowlark's COVID-19 response and procedures. The Meadowlark Messenger will be published each week on Monday and Thursday. The Meadowlark team will continue to follow the situation as it develops and use CDC and CMS recommendations to guide organizational decisions. For more information, please call (785) 537-4610.