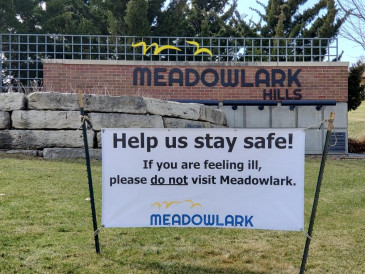 See below for more information about the current limitations and developments for Meadowlark's COVID-19 response. Archived newsletters and press releases are included at the bottom of this page.
Current Campus Restrictions
Due to the rising spread of COVID-19 positive cases in the greater Manhattan community, Meadowlark's temporary changes listed below  have been extended through Friday, Jan. 28.
The Manhattan Area Music Teachers Association Rectial scheduled for Jan. 21 has been postponed.
All individuals are required to wear masks while in a Meadowlark common space, except when dining at Prairie Star Restaurant or Verna Belle's Café.
Visitors are allowed on campus, however, they may not dine in Prairie Star Restaurant or Verna Belle's Café. Additionally, visitors cannot attend any on-campus events or remain in common spaces. Please ask visitors to wear a mask and proceed directly to your apartment or cottage. This pre-caution is specific to independent living residents. Household residents and families should contact the coordinator of their living area for up-to-date restrictions in long-term care and assisted living.
 The delivery fee is waived for Prairie Star Restaurant. The restaurant only delivers within Meadowark's main campus.
Pizazz Salon will re-open Saturday, Jan. 15.
If you have questions regarding these restrictions, please contact Jayme Minton at jminton@meadowlark.org or by calling (785) 313-0454.
Masking at Meadowlark
Masks are required for independent living residents and guests in the Community Center areas. All residents, guests, and Meadowlark team members should continue frequent hand washing. Please stay home if you are feeling sick.
Meadowlark team members will continue masking in all service areas. Protocols and procedures may be different for residents and guests in long-term care and assisted living areas.
Stay informed
Meadowlark residents can tune into Touchtown, television channel 1960, for updated information regarding Meadowlark's COVID-19 response and procedures. The Meadowlark Messenger is published each week on Thursday. The Meadowlark team will continue to follow the situation as it develops and use CDC and CMS recommendations to guide organizational decisions. For more information, please call (785) 537-4610.